Ginger has long been revered for its powerful health benefits. It is a fortifying herb, with strong anti-toxin properties. It warms the body, stimulates metabolism, combats bloatedness and aids digestion. Recent research has also found remarkable anti-inflammatory properties in ginger.
At The Male Therapist, the ginger treatment is a revitalising scrub and wrap.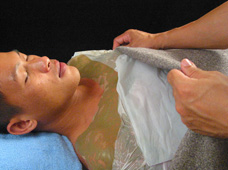 After the scrub or application of the paste, you will be wrapped up and covered with a blanket for about 20 minutes. As your body warms up, your pores open and capillary blood flow under your skin increases, thus enhancing absorption of the beneficial elements of ginger.
After a shower, a massage is recommended to further boost circulation in your muscles and organs, thereby distributing the benefits throughout your body.